In today's issue:
Just listed : From the best What Toronto has to offer
View from Overseas on Toronto Real Estate market
Top 10 hottest countries for Chinese buyers.
Canada is #3 for Chinise buyers and Toronto is a # 1 in Canada
Just listed: From the best What Toronto has to offer
4201 – 65 Saint Mary Street, Toronto.
Price: $1 850,000
65 Saint Mary Street is a unique residential complex located right on the grounds of the University of Toronto. The deluxe building is a high-end offering of superior condos that offer a luxurious lifestyle in the vibrant heart of the city. Featuring a rooftop patio boasting stunning views of downtown and Lake Ontario, the building also includes a large, chic entertainment/party room as well as a fully equipped fitness centre. Located just steps from the Bloor Street boutiques, the Subway, Queen's Park, health facilities and so much more, this stylish residence was designed as the ultimate in convenience.
Unit 4201 is a fabulous condo boasting over 1477 square feet of sumptuously appointed living space. Fitted with two large bedrooms as well as a den and two oversized balconies, the unit is an executive offering of the highest standards. Extra wide, engineered hardwood floors in a rich hue combined with stunning, contemporary crystal light fixtures add to the gorgeous modern aesthetic used to finish the living space while walls of windows overlooking the city and walkouts to the two balconies add to the appeal of this exclusive home.
The foyer is airy and bright while the living room is a sophisticated setting boasting a stunning view of the city on two sides. The adjoining dining room shares the same contemporary appeal while the gourmet kitchen is a European inspired setting fitted with a quartz Waterfall centre island, a striking mosaic tiled backsplash and highend Miele appliances.
The master bedroom is a spacious setting featuring a superbly organized walk-in closet as well as a deluxe, five-piece ensuite fitted with a custom vanity and glass shower stall. The den is a large space that can easily serve as an extra bedroom if needed. Boasting a lobby that is certain to impress and a location that is second to none, this exceptional offering is not going to be available for very long.
Photo Gallery:
If you would like to discuss options please call us at 416-927-9898 or email at tkonkina@rogers.com and we will get back to you within the next 24 hours.
---
View from Overseas on Toronto Real Estate market
by www.opp.today
The average price of available new single-family, low-rise homes in the Greater Toronto Area (GTA), Canada, has now topped $1million to a new record.
In January, the average price of the homes, which includes detached, semi-detached, row and townhomes, increased to a new record of $1,028,395, the Building Industry and Land Development Association (BILD) announced today (Thur 23 Feb).
Values of new ground oriented homes have grown 25% in the last year, according to the data from Altus Group, BILD's official source for new-home market intelligence.
The average price of a new detached home increased to an unprecedented $1,316,325 in January. Ten years ago the average price was $444,368. Meanwhile, the average price of a new GTA townhouse was $879,619 compared to $328,989 in January 2007.
BILD President and Chief Executive Officer, Bryan Tuckey, says, "The GTA is facing a severe shortage of housing supply, particularly for single-family homes which sell as soon as they come to market.
"When there aren't enough homes to satisfy demand, prices increase and that is exactly what has been happening in our region over the last decade."
There were just 1,524 new ground-oriented homes available for purchase in builders' inventories at the end of January, a near all-time low. In January 2007 there were 18,400. Meanwhile, supply of new detached homes declined to 534, the lowest ever recorded in the GTA. Ten years ago, there were 12,242.
The average price of new condominium apartments in stacked townhouses and mid and high-rise buildings in the GTA reached $507,511 in January, also setting a new record. The average price per square foot reached an unprecedented $625.
New apartment prices have grown 13% since January 2016, increasing by almost $60,000. A decade ago the average price was $322,569.
"Our industry is implementing provincial policy by building more condominium apartments and less ground-oriented housing," Mr Tuckey says. "A decade ago condominiums represented just 42 per cent of available inventory compared to 88 per cent in 2017."
After years of healthy supply, the number of new condominium apartments available for purchase began to decline. In January 2017 there were 11,529 new condominiums in builders' inventories across the GTA, which is a 10-year low.
Overall there were 13,053 new homes in builders' inventories across the region in January compared to 31,461 a decade ago.
Mr Tuckey says, "Today in the GTA there are less than half the overall number of new homes available to purchase than there were a decade ago. Lack of serviced developable land, excessive red tape and frequent delays in the development approval process have all been large contributors to our housing supply crisis."
New condominium apartment sales were the strongest recorded for a January following a record year in 2016. There were 1,199 homes sold across the GTA in January, most of which were sold in the City of Toronto. The total is 11% up year-over-year.
Patricia Arsenault, Executive Vice President of Research Consulting Services at Altus Group, says, "Demand for condominium apartments is coming from a variety of sources.
"Among them: end users who prefer the locations and amenities afforded by condominium apartments; families who might have opted for a single-family home, but have been shut out of that segment due to lack of available product; and investors who are the key providers of new rental supply for the GTA's growing population."
Sales of new single-family homes declined to one of the lowest Januarys in the last decade. There were 741 homes sold across the region of which 369 were detached.
With more than 1,450 members, BILD, formed through the merger of the Greater Toronto Home Builders' Association and Urban Development Institute/Ontario, is the voice of the land development, home building and professional renovation industry in the Greater Toronto Area. BILD is affiliated with the Ontario and Canadian Home Builders' Associations.
---
Top 10 hottest countries for Chinese buyers.
Canada is #3 for Chinise buyers and Toronto is a
# 1 in Canada
Juwai reveals top 10 Chinese buyer picks for 2016
By Juwai.comWhere were Chinese property investors looking to buy in 2016?Propelled by rising property prices in China's domestic property market, burgeoning retirement planning boom with China's silver generation, and the fact that property is the most preferred asset class for Chinese, Chinese appetite for overseas property remained undaunted by various cooling measures imposed by various markets last year.We share the top 10 countries and cities most in demand with Chinese real estate buyers on Juwai.com in 2016, and take a closer look at recent trends that drove Chinese property investors to the following locations.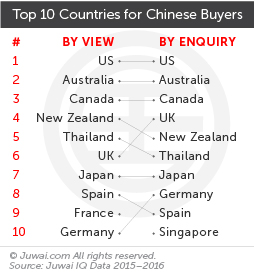 The US continued its reign as the most viewed and enquired investment destination by Chinese buyers on Juwai.com last year.And while Australia, Canada, and Japan held a solid grip on their respective spots, it's riveting to note how the other countries had varying positions on both lists. One clear example is the UK, which ranked sixth in terms of views yet placed fourth in terms of Chinese buyer enquiries.France, which was the ninth most viewed country by Chinese homebuyers, didn't even make the cut on the second list. Instead, it was Singapore that crept into the list to become the tenth most enquired country last year.Find out why Chinese enquiries tend to differ from their initial searches here.
Top 10 most-searched cities by Chinese
We break it down further, and offer a closer look at the ten cities most viewed by Chinese homebuyers in the following countries.
United States (US)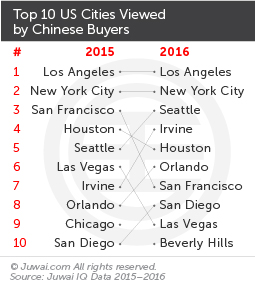 Despite being faced with the prospects of a Trump presidency during the last few months of 2016, the Chinese love for the US stayed true.
Chinese buyer enquiries for US real estate on Juwai.com were up 178% y-o-y in the final weeks of 2016.
In terms of popularity, Los Angeles (LA) and New York City (NYC) remained unchanged as the two most sought-after cities in the US, while third-placed Seattle can thank the British Columbia foreign buyer tax for its latest surge in popularity with Chinese, as reported by Bloomberg.
The implementation of the new 15% foreign buyer tax in August 2016 saw Chinese buyer enquiries increasing 66% y-o-y for Seattle, even as it fell 43.4% in Vancouver during the second half of 2016.
The biggest climber was Irvine, which is home already to a huge Chinese community – 17% of Irvine's population are Chinese2, and Irvine has now become the largest city in the continental US with an Asian plurality.3
Despite the ambivalence encircling Trump's travel ban, we believe the US will hold steady in the hearts of Chinese homebuyers in 2017, as many Chinese are still chasing after the American Dream, and the US is still extremely popular with Chinese students1 – 34% of China's high net worth population consider the US as the #1 education destination1, and 72.6% of Chinese buyers on Juwai.com cited education as their chief motivation for buying in the US in 2016.4
Australia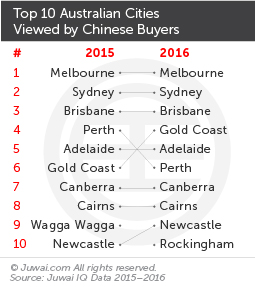 Sitting tight at #2, Australia stayed ever much in demand with Chinese buyers last year, who seemed unfazed by lending restrictions, new stamp duty, and land tax surcharges on foreign buyers in parts of Australia.
Juwai IQ Data revealed that Chinese enquiries for Australian properties priced up to $1 million were up 34% in September, compared to 12% in June, as reported by Reuters.
Another reason behind such healthy demand from Chinese was due to an emerging trend last year, which saw the rise of the Chinese 'Upgraders' – Chinese Australians who are increasingly choosing to upgrade from apartments to house and land packages.
This new trend is mostly driven by the first wave of Chinese buyers in Australia, who first bought apartments during their student days. However, most have now married and settled down, and like most Australians, many now seek a larger home with land as they move on to their next phase in life.
New Australian student visa rules, which went into effect on 1 July 2016, further fuelled Chinese investment in the Australian property market, particularly as 52% of Chinese property hunters prefer to invest in school districts, compared to 23% in CBD, and 17% in areas close to Chinese communities.6
As for where Chinese are looking, Melbourne – voted the most liveable city in the world5 – led the pack, followed by Sydney and Brisbane as the three most-searched cities in Australia. Elsewhere, Gold Coast experienced a resurgence in popularity, while Rockingham made its debut into the top 10 for the first time.
Canada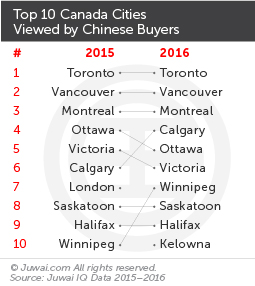 Even the furor surrounding the new foreign buyer taxes in British Columbia (BC) was unable to oust Canada from its third spot on the list.
After all, Canadian real estate is still considered a bargain by Chinese property buyers, and Canada remains the third favourite emigration destination for China's rich and wealthy6, thanks to it being one of the best places in the world to live in.
Canada is home to three of the ten most liveable cities in the world: Vancouver (#3), Toronto (#4), and Calgary (#5), according to the Global Liveability Ranking 2016 by The Economist Intelligence Unit.5
While the 15% foreign buyer tax may have led some Chinese homebuyers towards Seattle, other Canadian cities saw significant increase in Chinese buyer attention on Juwai.com as well.
Nevertheless, Vancouver still remained as the second most viewed city in Canada, behind #1 Toronto and ahead of #3 Montreal. Two other Canadian cities that also received a surge in Chinese searches were Calgary, which saw a significant increase in Chinese enquiries on Juwai.com during 1H 2016, and Winnipeg.
With a Toronto councillor renewing calls to follow the footsteps of British Columbia in imposing a foreign buyer tax in the Greater Toronto Area (GTA)7, how would these rankings change in the next quarter? Either way, regardless of where they're looking at, Canada looks set to stay hot in demand with Chinese property buyers.
This rings true, considering education is a strong motivation driving Chinese real estate buyers abroad, and Canada recently overtook Australia to become the third most favoured education destination for Chinese HNWIs.1 This, together with the fact that more and more direct air links – such as the Hainan Airline's new direct air link between Calgary and Beijing – continue to be added between various cities in China and Canada is likely to propel more Chinese towards Canada in the coming years.8
United Kingdom (UK)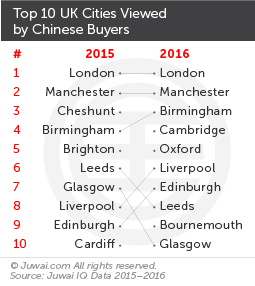 Already acclaimed as a safe haven, UK's popularity with Chinese saw a huge spike on the back of the post-Brexit depreciation of the British pound, which made UK properties a bargain buy in the eyes of Chinese homebuyers.
Chinese buyer enquiries surged 40% on Juwai.com in the month following the Brexit referendum.
While London still dominated as the top choice for Chinese property hunters last year, its increase in stamp duty of 8% for property worth over £250,000 has led many Chinese to look towards the North, particularly at Manchester.
Chinese enquiries for Manchester were up 53.8% y-o-y on Juwai.com in November 2016, and we can see why. With the completion of the HS2 High-speed Railway extension to Manchester, which makes it just 59 minutes away from London Euston instead of 2.5 hours9, as well as the newly-added Beijing-Manchester direct flight from Hainan Airlines, which is set to attract over 20,000 Chinese and generate a revenue of £250 million for the UK economy by 202610, 2017 could be the year for Manchester as more Chinese continue eyeing other UK cities as an alternative investment location offering better returns and yields than London.
Besides Manchester, other UK cities that savoured a boost in Chinese attention last year include Birmingham, Liverpool, and Edinburgh. Interestingly, two other notable UK cities that came out of nowhere to take the fifth and sixth spot were Cambridge and Oxford – home to the famed Cambridge and Oxford Universities.
Was this a coincidence? We say no. Seeing as 20% of Chinese high net worth individuals (HNWIs) voted the UK as the second most preferred destination for their children's overseas education1, it's definitely imperative to take into account how Chinese are highly motivated by education.
New Zealand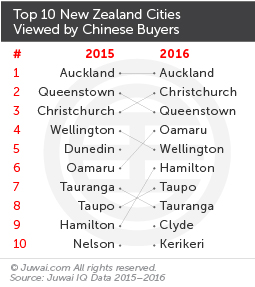 The Kiwi government's move in January 2016 to loosen visa policies on multiple entry visas, offer longer business visas, and extend validities saw New Zealand reaping the benefits for the rest of the year.
409,008 Chinese visited New Zealand in 2016, a 14.9% growth11 that trickled over into the property market.
Chinese visitors to New Zealand increased 24% y-o-y by the end of September 201612, the same period that saw Chinese enquiries for New Zealand property grow 50% on Juwai.com.
By October, total Chinese enquiries and views for New Zealand on Juwai.com were up 80% and 127%, respectively, y-o-y.
With New Zealand becoming an emerging location increasingly favoured by Chinese, where were they eyeing in New Zealand last year?
Besides Auckland, which stayed firm at the top spot, all the other Kiwi cities either saw a change in ranks, or were replaced by other cities. Biggest climbers of last year were Hamilton and Oamaru, while Dunedin and Nelson dropped off the list entirely to be replaced by the cities of Clyde and Kerikeri.
Europe (excluding UK)
With the euro still weak against the Chinese yuan, Europe continued to be of interest for Chinese investors last year.
Surprisingly, despite the terror attacks in France last year, Paris stayed as Chinese buyer's most-searched city in Europe for 2016. However, France still slipped out of the top 10 list in terms of Chinese buyer enquiries last year, as seen above.
Barcelona and Berlin saw no changes from 2015 as well, and remained in the top three, albeit having swapped positions.
Elsewhere in Europe, we also saw newer alternative markets, like Budapest in Hungary and Amsterdam in the Netherlands emerge in 2016.
Still, it was clear to see that Spain was the star in Europe that enjoyed the biggest boost in popularity with Chinese last year – both Barcelona and Madrid moved up in ranks, and Valencia stayed steady at the seventh spot, while only Alicante saw a slight wane in Chinese interest.
That said, where would Chinese buyers be looking at this 2017? Stay tuned, and we'll keep you posted in our next quarterly update.
Sources: 1. Hurun Report "Chinese Luxury Consumer Survey 2017"; 2. The Orange Country Register: Political candidates appeal to Irvine's growing Chinese population; 3. The Orange County Register: Why Asians have become the dominant group in Irvine – and what that means for the city; 4. Juwai IQ Data, November 2016; 5. The Economist Intelligence Unit "A Summary of the Liveability Ranking and Overview" Report; 6. Hurun Report "Immigration and Chinese HNWI 2016"; 7. CBC News: Toronto councillor renews calls for foreign buyer tax; 8. Calgary Herald: B.C. tax could drive more Chinese buyers to Calgary, realtors say; 9. BBC: Chinese property investors bet on the Northern Powerhouse; 10. Gentlemen in China: More Chinese tourists going to Manchester; 11. Global Times: Overseas visitors come in record numbers to New Zealand; 12. COTRI: Newly-published government statistics show just how important Chinese outbound tourism has become to New Zealand's economy;